As a founder or in-house marketer, choosing which marketing tactics to focus on is no doubt something of a challenge. There are so many options! Each one has its merits. But will it be the right choice for your business?
In today's post we're looking at blogging and trying to answer the question, "When is blogging most effective for business?" Because although there are many benefits of blogging for virtually any business, there are some situations that will benefit from a blog in particular.

When someone is making a considered purchase
If you're buying a pint of milk, there's a good chance you won't think all that hard about it. You'll nip into the nearest shop, decide between skimmed, semi skimmed or whole milk, pick the bottle size you want and that's that.
If, however, you're thinking about buying a new laptop – or car seat for your newborn, or choosing a building company for an extension – you're likely to spend much more time on the decision-making process.
"The more considered a purchase someone is making, the more effective a blog can be in providing the information they need to make a good decision."
Ditto in the B2B world. As a marketing manager, you might spend a couple of hundred pounds on merch for an event without worrying too much about it. But if you're taking on a new copywriting agency (or design agency or SEO agency), you'll want to do a lot more research.
The more expensive a purchase is, or the more critical it is to get that decision right (remember the newborn's car seat), the more considered it will be. And the more considered a purchase someone is making, the more effective a blog can be in providing the information they need to make a good decision.
If you're selling a complex product or service
If a product or service is complex, your audience is likely to need more information in order to make a good buying decision than they would if the purchase were simpler. Blogging can be a useful way to deliver this information in bite size chunks that lead the reader along the buying journey from being stuck to making a purchase decision.
The important factor here is being clear about anything that your reader won't understand. Explain the jargon. Explore the benefits. Look at options – which one would best suit which type of person or business? Remember, you need to be honest and provide as unbiased a view as possible in order to add genuine value.
Don't be afraid to explain why your type of product or service may not be a good fit for someone. If they leave your blog post with a sense that you have provided good information, they may well recommend you to someone who is a good fit. The alternative is that you somehow twist their arm into choosing you and they end up unhappy, causing you more problems than the sale was worth.

For businesses with a long sales cycle
If you're in sales in a business that has a long sales cycle, you'll know how tricky it can be to get the balance of staying on your prospect's radar without bugging them. The longer that sales cycle is, the easier it is for them to get distracted somewhere along the way.
A blog can not only help lead those prospects from one stage of the buyer journey to the next but can give you an excuse to proactively get in touch.
Imagine you've met someone at a conference. They seemed interested in one of your products or services. You chatted, exchanged business cards and connected on LinkedIn. This is not the time to go in with a hard sell. Instead, sharing a relevant blog post – perhaps one that you know will help them with a challenge they mentioned – will demonstrate both your expertise and your desire to help them.
Ideally, you'll want to create a blog post for each stage of the buying process so that you have a series you can send at appropriate times. A good place to start if you're looking to equip your sales team is comparison posts that weigh your product or service against competing options, and objection busters that answer key questions your prospects are likely to have.
Blogging can take anywhere from 9 to 18 months to demonstrate a real return on investment, so you need to know that you're not going to give up or have your budget pulled after three months.
Where community building is important
Even in industries such as fashion and lifestyle, where products may be fairly simple, relatively low cost and purchased more on a whim than through serious consideration, blogging can still be used to build a brand community. A number of brands do this very well, for example Fat Face, Fjallraven and our clients Tom & Teddy.
Community building blogs usually feel a bit more like lifestyle magazine articles. They build atmosphere, inspire their readers, make them feel that they are part of something bigger. You can also include posts that showcase how to use your product or service to full effect, or case study based articles that demonstrate how others have benefited from them.
Deciding whether a blog is right for your business
If you're still reading, it's probably because you've recognised one or more of the scenarios above and you're feeling broadly more confident that blogging could add genuine value for your business. Now it's time to look more closely at the specifics. Because to make blogging work, you have to put in the effort.
So ask yourself…
Do you have a clear strategy?
There's no point bashing out a few hundred words and hoping they'll stick. A blog needs to sit within a clear strategy, with a well defined audience and at least some idea of the outcomes you want it to deliver. You need to understand what part of the funnel you're writing to, how you're going to track results and plenty more besides.
Are the relevant people willing to get involved?
Whether you'll be in charge of writing the blog yourself or you'll be managing the process – for example with the support of an internal copywriter or an external freelancer or copywriting agency – you'll probably need support from other people in your organisation.
For example, if you're creating bottom of funnel (BOFU) blog posts that are fairly sales oriented, you'll want input from your sales team. If you're heading down the thought leadership route, you'll want to talk to your subject matter experts. After all, thought leadership needs more than good writing, it needs good thinking.
If these people aren't likely to help, you're going to be struggling from the start.
Have you got / set realistic expectations?
Blogging can absolutely be a great lead generation tool. But it tends not to generate instant results in the way that, for example, a Google Ads campaign might. Blogging can take anywhere from 9 to 18 months to demonstrate a real return on investment, so you need to know that you're not going to give up or have your budget pulled after three months.
The results we've generated for our blogging clients
As with any marketing tactic, there's no guarantee that a blog will generate the results you hope for. We don't believe in promising a 10x on leads because there are just too many factors involved. But we do know that with the right strategy, blogging can make a huge impact.
Tom Riglar, Co-founder of app development agency, Morrow, has been working with us to produce thought leadership and sales blogs for the last year.
He says: "As experts, we really know our stuff but struggle to communicate that expertise to the outside world. Rin and her team have transformed the way we tell our story.
"Content marketing is a long term strategy but we're already benefiting from an increase in the quantity and quality of leads, better brand awareness and a clearer focus on who our prospects are."
At healthcare startup Blueheart, we used SEO blogging to increase their website traffic from 5,000 to 30,000 visitors per month within the first six months of working with them.
Camiel Roex, their Head of Growth, said: "Organic visits are the most stable part of Blueheart's acquisition funnel… RH&Co helped us generate massive results over a span of a few weeks, and that's just from the increase in traffic on the blog.
"We can run a full content marketer's job in one hour a week instead of 20 hours. And we don't have to hire someone full-time, which is important for a startup."
If you'd like to talk more about whether blogging is right for your business – and what type of blog will generate the best results – get in touch with us today.
What's more important for B2B businesses: brand building or lead generation?
Naturally if you ask a PR agency, they'll say brand building and if you ask a performance marketing agency, they'll say the opposite. Some will say you need both, but what does that mean for your marketing plan's time and budget? What does it look like in terms of ratios? 60:40? 80:20? 50:50?
The answer will depend on many factors: your audience, your market, your growth stage, and the nature of your product or service. If you were looking for exact percentages, I'm afraid you won't find them here or anywhere else (unless that place is trying to sell you PR or lead generation).
Instead we'll give you some food for thought on what your priorities might be. But first, some definitions…

What is lead generation?
We don't really need to define lead generation, since it's pretty self explanatory. Lead generation gets you leads.
It's the world of Google search ads, social media ads, banner ads on websites, landing pages, – anything that can push people over the line to make a purchase then and there – or at least give some contact details so you can follow up with email campaigns or direct sales outreach later.
It's also worth talking about growth marketing here. This is a relatively new term that encompasses a data driven, experiment-based, performance model that essentially prioritises lead gen. It experiments to find the optimum spend for different marketing channels, so that new businesses can acquire as many customers as possible for as little cost as possible.
"Ultimately brand building should shift how people think and feel about and towards a brand for the better."
What is brand building?
Brand building is a bit more nuanced in terms of what it is and does.
Strictly speaking, anything that your business does to get noticed for the right reasons can be considered brand building. This makes it something that goes beyond the marketing department and into the remit of product design, customer service and even some aspects of HR.
Lead generation and brand building definitely overlap, especially when it comes to content. But there are tactics that lean more towards brand building than led gen, such as:
CSR activities like sponsoring your local sports team or supporting a relevant charity
Value-based content marketing such as producing helpful guides and other publications
PR campaigns that widen your reach and boost your reputation with a certain market
Ultimately brand building should shift how people think and feel about and towards a brand for the better.

Which one gets results?
It's pretty easy to measure how effective lead gen or growth marketing tactics are and prove their effectiveness.
You host a webinar and get 100 emails for your sales team to follow up on. You put money behind a LinkedIn campaign and get a dozen demo requests. These numbers can be tied fairly easily to the bottom line.
There's a catch though – not all leads convert. Many companies throw loads of money at lead gen and see middling results. Either because they don't get quality leads or they don't have the content they need to nurture those leads once they get them. So it's not as simple as more lead gen spend = more sales.
With brand building, attribution is far less obvious though. It's unlikely that a football-loving Head of Procurement will see your brand's logo on their team's strip and immediately feel the urge to do business with you.
But what if your team sponsorship builds a positive feeling towards your brand in that Head of Procurement's thoughts? And what if later they're trying to choose between you and a close competitor? It may well be what pushes them over the line. You'll never be 100% sure though.
The 95-5 rule of B2B marketing
The problem with B2B marketing is that only 5% of your target audience is likely to be actively looking to buy at any given time. The other 95% may well be interested in the future but not yet. This is the 95-5 rule, which came out of a recent study by Professor John Dawes and the B2B Institute.
It's not like selling haircuts or manicures, where a pay-per-click campaign can quickly redirect someone searching for 'manicures in Bristol' to make a booking at your new salon. B2B buying decisions often involve an audience that doesn't understand what you do, a product that they won't need for two years, or a service with such a high price tag that people will conduct serious research before they commit to any kind of decision.
That means it's potentially more important for your B2B marketing activities to build a positive impression of your brand rather than just attempt to generate a lead then and there. That way you'll be able to engage the 95% as well as the 5%. And done right, you won't just create a positive impression, you'll create trust.
FURTHER READING: Reinventing the buyer's journey: introducing the RH&Co content marketing framework
Long term vs short term marketing
Brand building will introduce you to a wider audience so that when they're searching for solutions in one-to-five years, you at least make the shortlist.
But sometimes, you can't wait that long. You need your product launch in three months time to hit the ground running; you need cash flow to cover the costs of your new hires, or you need to get in front of your early adopters so you can begin to build brand momentum. Here lead generation is your friend.
Once you have that traction, brand building can help sustain it. For many B2B businesses, referral partners are an important source of leads. Brand building fuels the conversation with these key contacts, creating brand advocates from people and businesses that lie outside of your direct target audience.
Brand building can also increase customer lifetime value. You're far more likely to renew your contract with your design agency if they've just won a prestigious award, for example. You're also more likely to recommend them to others in your network.
At Rin Hamburgh & Co, the overwhelming majority of our business comes through referrals, recommendations and ongoing clients. If we turned off all our lead generation taps tomorrow, there might not be much difference. Intriguingly, that's exactly what happened recently with Uber, Airbnb, P&G, eBay and a whole long list of household names who decided they were through with performance marketing.
Creating a balanced marketing plan
So, back to our original question – how do you decide where to allocate the most time and budget when creating your marketing plan?
Well, as Peter Drucker said, "Long-term results cannot be achieved by piling short-term results on short-term results."
If your company is in its early growth stage, you probably need to prioritise short term results so you can get some momentum going, keep the bills paid, and sprint to the next funding round. Lead gen might do you wonders, and stop you from getting distracted by vanity metrics. Your blog can play a vital role in attracting and nurturing those leads too.
But if your organisation is struggling to qualify leads, catch the attention of bigger clients, or needs to stand out as an authority in your field, you'll want to focus more on brand building.
For the best results, try to do both, dialling one or the other up a notch as the needs of the business evolve. Taking the long term view of a brand marketer and combining it with the results-focused mindset of a lead gen marketer plus growth marketing's experimental approach is a powerful strategy that will take you far.

For more insights into how to split your marketing budget, check out the business benefits of blogging – and how to sell them to your boss.
As a marketing manager, you know that creating and maintaining a good, effective blog for a business isn't easy. It takes time, thought, skill and budget. You also know that the business benefits of blogging absolutely outweigh the costs – but getting your boss on board is another matter.
Here's a refresher to help you state your case – with metrics you can track to help demonstrate the return your blog will be able to generate for the business.
1) Driving traffic to your website
There are many places we can create and host content these days, from social media to publishing platforms like Medium. These all have their advantages but there's a key problem – you're not in control of those platforms. As Joe Pulizzi, founder of the Content Marketing Institute, says: "Don't build your content on rented land."
Because your blog sits on your website, you're in control. It also makes it a great tool for attracting visitors. This can be done in different ways (e.g. via search, social media, or direct outreach) and is useful for a number of reasons, not least of which is that the more people you attract to your site, the more people you are likely to convert in some way.
What to track: Look at which page your website visitors land on first. If the percentage arriving through your blog increases, you know it's doing its job attracting people to your site. You can also set up Google Search Console to show you which blogs are attracting the most visits from different keywords.

2) Improving your website's SEO
Even if your primary means of attracting people to your blog is via social media, publishing blog content on your website will improve your site's SEO in a number of ways:
Rich in key words: As you build up your blog content, you will naturally be building up the keywords that people use to find your website, especially long-tail keyword phrases, which have lower search volumes and competition but better conversion rates.
More indexed pages: Simply by adding to your website regularly via your blog, you'll be signalling to Google that your site is an active and relevant one.
Increase dwell time: Great content will keep people reading. This increases their dwell time, something search engines look to as part of deciding how authoritative the site is.
Opportunity for internal links: By linking your blogs internally (e.g. by creating a series), you can further increase the dwell time.
Opportunity for backlinks: This is where other sites link to yours, increasing your Domain Authority (DA). Great content is more likely to attract backlinks than mediocre content.
What to track: There are lots of ways to judge how successful your content is for SEO, from where you rank for a given keyword to the volume of organic traffic you get.
3) Creating a source of content for your social media channels
A blog is foundational content, giving you something you can share and repurpose to engage with your audience across your social channels.
Think about this article, for example. It wouldn't take all that much work to turn it into a series of social posts, each featuring one benefit. This could take the form of a visual carousel on Instagram, for example.
You can draw out and share a single quote or statistic, use the premise of the blog to pose a question for your audience, or link it to a sales message. And you can mix up the formatting too, recording the key message in audio or video form.
What to track: To showcase how your blog supports your social strategy, you could track how much time you spend creating social content, as well as engagement levels.
"Blogging isn't just about generating lots of attention at the top of the funnel – it's also about helping to close the deal once your audience is further along their buyer journey."
4) Converting traffic to leads
According to DemandMetric, companies that blog get an average of 67% more leads than those that don't. Wherever a particular blog post is positioned in terms of the buyer journey, it can help your audience move one step along with an appropriate call to action.
If your audience is still unclear about their problem – what the RH&Co blogging framework calls 'in the dark' – you would start with softer CTAs encouraging them to read another post, sign up to a newsletter or follow you on social media.
Later, you might suggest that they download a piece of even more valuable content in return for their email address. And by the time you get to the 'almost ready' stage, you can step your CTA up and recommend that your reader books a demo, contacts your team or buys your product.
What to track: Think about which metrics are most important to you. This could include newsletter sign ups, lead magnet downloads, demos booked and so one.

5) Supporting your sales team
Blogging isn't just about generating lots of attention at the top of the funnel – it's also about helping to close the deal once your audience is further along their buyer journey.
Bottom of funnel content includes objection busters and process posts. As an example, we have a post titled How can you blog for my business if you're not an expert in my subject?. We know this has helped several marketing managers get buy-in from their boss in order to bring us in to work with them.
Bottom of the funnel content can be shared on social media but it's particularly effective when used proactively by your sales team to help convert leads into sales.
What to track: It's rare that a blog post will close a deal in isolation so your best bet here is to get qualitative feedback from your sales team. They'll be able to tell you whether they're getting good results from the content they're sharing.
6) Establishing expertise
The best way to convince someone of a business's expertise is to demonstrate it. A blog is a platform on which to showcase the knowledge your subject matter experts have.
Blogs that help establish expertise include educational and problem-solving 'how to' posts and opinion-filled thought leadership. Over time, creating this kind of original blog content will establish your brand's expert reputation, building trust with your audience.
What to track: This is a much harder one as a) it's just not that easy to quantify expertise and b) it's a longer term strategy. Some indicators of expertise, however, could include press coverage, invitations for speaking engagements, and backlinks (which in turn is great for SEO).
7) Attracting talent
This one might not be on your radar but it's a super powerful benefit, especially in competitive employment markets like tech.
If you're on a recruitment drive, your blog can be a great tool for broadcasting your company culture and values – and how they play out in real terms. This not only makes you more attractive to the right people, but can weed out the wrong ones before you get started on the CV sifting.
What to track: This is another tricky one to get definitive numbers for but, if you link culture posts to CTAs directing the reader to a careers page or job advert, you can set click throughs as a KPI. That said, don't dismiss the qualitative data – several of our clients have had candidates referencing the blogs we've created for them in interviews, so listen out for that.
One final business benefit of blogging
The great thing about blogging is that it has a cumulative effect. It won't quickly go out of date like a social post, or need to have more money ploughed into it to keep it generating results like PPC.
Once you've pressed publish, it's there for good. And as you publish your 10th blog, you will still be getting traffic from your first, with no additional effort.
Of course, generating this kind of value does rest on being committed to blogging as a long term strategy. You may get some results from publishing a handful of posts and then stopping but blogging isn't a quick fix.
Online marketing guru Neil Patel says you need to give it at least 6 to 9 months, while Joe Pulizzi – who founded the Content Marketing Institute – writes in his book, Content Inc, that it's more like 12 to 18 months.
So when you're presenting your marketing strategy and looking for sign off on a budget for blogging, be sure to set the right expectations. But have confidence too. Blogging is a hugely powerful tool that will generate demonstrable results in time.
Have you ever wondered what it's really like to run a copywriting agency? We asked RH&Co founder Rin to give us an insight into a typical day, with all its ups, downs and unexpected turns, plus what she does to try and keep it all on track.
One of the things I crave most in my life is variety. That's why I started my career as a journalist. I loved arriving at my desk each morning, not knowing whether I was going to be interviewing a celebrity, covering a local court case or heading down the motorway to cover the opening of a new arts centre.
My job isn't quite as exciting these days but there's still a fun mix of activities in any given week as an agency owner. Here's what life usually looks like for me on an average day – whatever one of those is!
Getting prepared for the day
My alarm usually goes off anywhere between 6:30 and 7am, depending on how much quiet time I want before the kids get up. If I'm being good, I'll choose the earlier option and make sure to get some journaling, reading or meditation time in before everyone else is awake.
Then it's time for the madness that is getting everyone fed and dressed and ready for the day. If you've ever had to watch a six-year-old eat a bowl of dry Cheerios one at a time when you're on the clock, you'll understand why meditation is such a good idea.
By 8:30am my children have headed off to school with my partner – I am inordinately grateful for his flexible freelance schedule, which means he can do more than his fair share of childcare and home management while I work full time.
This first half hour at my desk is dedicated to checking my emails and getting my tasks sorted out for the day. I use Trello to organise my to-do list and have a Default Diary spreadsheet that allows me to view my whole month in one go. It's colour coded so I can instantly see what proportion of each week is dedicated to strategy, meetings, client delivery and so on.
If this all sounds very organised, don't be fooled. I'm naturally very creative and reactive and not at all organised, so I've had to work incredibly hard to create systems that keep me efficient and effective.
Internal meetings and looking after the team
In 2021, the RH&Co team grew from 5 to 9 people. As a result – and because we're still operating remotely for the moment – it became necessary for us to put some sort of structure in place that would allow me to catch up with everyone regularly.
We've always had a weekly team meeting on a Monday but we now also have various departmental meetings on a weekly, monthly or quarterly basis, depending on what's needed. This means I always know what's happening with our finances, our client projects, our own marketing and our writers, even if I'm not directly involved with those things myself.
My fellow director Liz and I also use 15 minute 'LIONs' meetings (something we learned from Action Coach) to keep in touch with individual team members each week. As well as going through what happened Last week, any Issues, Opportunities and what they're up to Next week, it's good to just have that bit of face to face time and connect as human beings.
Client delivery – working in the business
The holy grail for business owners is to step out of 'doing the do' and focus entirely on strategy and leadership. I've certainly been shifting the balance over the last couple of years but it's not quite time for me to down tools just yet.
My role still includes a fair amount of consultancy and training work, covering brand voice and messaging as well as content strategy. I'm also RH&Co's floating jack of all trades, so at any given time I might get called in to take a briefing if an account manager is ill, for example, or edit a piece of work if our senior copywriter and editor has too much on his plate.
At the moment I'm working on creating a training programme for one of our clients, to help around 60 individuals in their marketing and commissioning teams improve their persuasive writing skills. It's always tricky trying to work out what level to pitch things at, as there will be a range of experience levels and I want to ensure everyone stays engaged throughout.
Taking a break – the importance of lunch time
I'll admit, I'm not always very good at taking a proper lunch break. If it weren't for my other half very kindly making me something to eat, I'd probably forget half the time. But my schedule has an hour blocked out for lunch from 12:30 to 1:30pm – 30 minutes to relax and eat, and 30 minutes to learn something.
I've doubled down on my efforts to stick to this schedule recently because I know how beneficial it is to inject some rest and inspiration into the middle of my day. Whether I'm reading a personal or professional development book, watching a Ted talk or listening to a podcast (one of my favourites is 2Bobs with David C Baker and Blair Enns), I always find I start my afternoon feeling genuinely refreshed.
I've just finished reading The Psychology of Money by Morgan Housel, am almost done with Agencynomics by Spencer Gallagher & Pete Hoole and am just starting The Future Starts Here: An Optimistic Guide to What Comes Next by John Higgs. If you have any recommendations, hit me up on LinkedIn.
Sales and strategy afternoons
Afternoons are usually set aside for dealing with two of my most important tasks as an agency owner: Sales and Strategy.
I still find it quite strange to describe myself as a sales person, because I'm really not at all what you'd typically expect if you watch something like The Apprentice (or Only Fools And Horses!).
The way I look at it, we offer a service that many businesses genuinely need. During a sales call, my job is to find out what their challenge is and whether we can help them within their timeframe and budget. It's not about trying to convince anyone to spend money on something they don't need.
Strategy is my catch all phrase for all of the 'on the business' work I do, and it's probably the bit I find most challenging and most fun, depending on how it's going. It can cover anything from reviewing our marketing or pricing strategy to putting together ideas for how to develop our client management team or expand our writing team.
Recently I spent several days creating the RH&Co 'blogging playbook', a 7,500 word document that brings together everything I have learned about blogging over my years as a journalist and copywriter. Right now it's an internal tool but I suspect it will end up becoming part of a book one day.
When it all goes wrong
Of course, my Default Diary can only ever be a goal to aim for. Inevitably things come up that threaten to derail my carefully constructed plans and sometimes there's no way around them. If a big new client wants to talk about a lucrative new contract at a moment's notice, I'm hardly going to refuse. Likewise if one of the team has a problem, I'll always make myself available to talk.
And let's not pretend that I'm always as self disciplined as I should be. The worst days are usually the ones where I let the 'urgent' jobs get in the way of the important ones, or when social media, email and general faffing about keeps me from doing what I actually need to do.
I can be a terrible procrastinator, especially when a job feels a bit scary or I don't quite know where to start, and my big goal for this year is to get better at 'eating the frogs' and prioritising 'deep work' (if you haven't read them, I highly recommend Eat That Frog by Brian Tracy and Deep Work by Cal Newport).
Shutting off for the day
When I first started my business I was a single mum with 9-month-old twins working part time in whatever blocks of time I could find – when I had childcare, when the babies napped or in the evenings – pretty much seven days a week.
Today I work full time but am very strict about finishing at 5pm so that, even though I can't pick them up from school, I can sit with my girls while they have their dinner and find out how their day went and then get them ready for bed.
I try to finish up any meetings by 4:30pm so I have that final half hour to check any last emails and tie up loose ends. When I do, I find I can switch off more easily and I'm far less likely to wake up in the night thinking, "Did I actually do X?"
Being an agency owner is something that happened almost by accident, without me really knowing what I was getting into. But I have to admit, I really enjoy it. Every day is different and, although it's not without its stress, it is satisfying to be in charge of my own destiny.
Recently, we wrote a blog post on why content is still king, despite it being 25 years since Bill Gates first penned the essay that inspired the saying. Sure, marketing is a fast moving industry powered by one technological advance after another. But the fundamentals that make content such a valuable tool in any marketer's arsenal remain the same.
What has changed, as we discussed, is the competition. According to Hubspot, 70% of marketers are actively investing in content marketing, with 24% planning on increasing their spend in this area. Visit the Worldometers website and check out how many blog posts have been published today alone.
So as a marketer or business owner, how can you create content that stands out today, in 2022 and beyond? 

Be genuinely valuable
This is the cornerstone of content marketing and what makes it different from advertising or any other type of marketing. It's about giving your audience something they want or need, whether that be a thought provoking insight, a way to solve a problem, or help choosing between two similar products.
Yes, content needs to ultimately deliver a return for your business but you can't have that in your mind when you conceive it. You have to put yourself in the shoes of your audience. What do they need? What are they trying to achieve? What are they struggling with? What will reassure them?
Be unique
What is it that you can say to your audience that is different to what your competitor might say? How can you weigh into the debate and add your voice, your experience, your knowledge, your expertise?
There is a place for foundational content that covers the basics. But even this needs to bring something unique, even if it's just the voice or personality you bring to the content that makes it distinctive to your brand.
Be strategic
Don't just write about stuff you think is interesting. As we've already said, your starting point needs to be what your audience thinks is interesting. But you need to go beyond even that, first understanding where they are in their awareness or buyer journey.
Are they literally in the process of making a choice between you and a competitor, or are they still not even really sure of what their problem is? You need to understand this so you can serve their most pressing need, and also decide what you want them to do next and then give them instructions in a well crafted CTA.
Be joined up
Producing content in and of itself is not especially helpful. You need to set it within a broader content strategy that considers a) where your audience is coming from and b) where they're going next.
Have you thought about SEO or your social sharing strategy? Will you be delivering content via an email list or as part of an outreach programme? Do you have the next piece of content ready to feed your audience once they've consumed the first piece? Remember, this is a journey, a trail of breadcrumbs rather than a single transaction.

Be consistent
If you think you can pop out the occasional blog post or video and then sit back and let the leads roll in, you're going to be very disappointed. Content isn't a quick fix, it's a strategic channel that needs you to stick with it long enough for you to see the results.
It takes at least 6-9 months for content marketing to start delivering significant results, according to SEO and digital marketer Neil Patel, while Joe Pulizzi, founder of the Content Marketing Institute, says it's more like 12 to 18 months.
If you can get all of these factors right, you will be well on your way to creating content that your audience genuinely loves. And if they love it, you will pretty much inevitably see that love translate onto your bottom line.
Every business owner and marketing manager knows that content marketing is a powerful way to build brand awareness, establish credibility, reach potential customers and clients, and ultimately increase leads and sales. What they frequently don't know is how often they should be creating and sharing content in order to get results.
In a sense, the answer is easy: as often as possible. After all, the more times you can appear on someone's radar, the more chances you have of convincing them that you're worth doing business with.
Not everyone will be ready to buy your product or service the moment they first have contact with you. Even once they enquire, statistics show that 63% will still take at least 3 months to make a purchase. So creating regular, strategic content keeps them moving along the buyer journey and helps you stay front of mind so that when the time comes, it's you they turn to.
But since "as much as possible" is not an especially helpful answer, we've broken down some of the elements you need to consider when setting your own particular content goals. By the end of this post you should be more confident in creating a content schedule that will work for you.
What do you have capacity for?
Are you a sole business owner wearing all the hats? A lone marketing manager juggling all the channels for an SME? Or part of a team of 30 content creators? The answer will have a big impact on how much content you can realistically produce.
Quality original content takes time and effort to create. It's likely to take you several hours to write a well researched, high value blog post, for example, not to mention the time it takes to source images, upload it to your website and so on.
If you're using a professional to help you create that content then you will be limited by your budget. But don't forget that your time has an associated cost too, not just in terms of what you're paid but the value you could be adding elsewhere in the business if you weren't creating content.

Don't prioritise quantity over quality
Some people get so fixated on quantity that they lose their focus on quality. There's no point doing a Facebook Live every single day if you haven't really got anything to say. Far better to do one once a week and really add value for your audience.
Likewise, don't spread yourself too thin when it comes to content types and channels. If you're trying to write articles for LinkedIn, take photos for Instagram, prepare talks for Clubhouse and think of witty soundbites for Snapchat all at the same time, you're going to burn out quickly.
Plus, does your audience really need all of that? And are they really on all of those channels? Choose one or two content types or channels to focus on, experiment to see where you get the best results and keep iterating so that you direct your attention to the most successful ones.
There's a difference between "create" and "share"
We use the phrase "create and share" a lot but it really should be "create or share". Because not all content that you share needs to be created by you. Think about when you read an interesting article in the news or watch a great TED talk and then share the link on your social channels. That's you getting your brand out there without having to create anything from scratch, except for a few words to caption the post.
These low effort content wins are actually incredibly powerful because they help develop a rounded image of your brand. Rather than constantly pushing your own agenda, by sharing news and views from other businesses and people (ideally tagging them when you do), you're both adding value and showing you're connected with your industry or your city.
You can do this from a company page as much as from an individual one. The main thing is to think about what your audience will find valuable, and then go and source it. Does your audience enjoy humorous memes or inspirational quote cards? Would they appreciate being updated on the latest industry research? Go find it for them! 

Rocks, gravel, sand – an analogy
Now let's bring that all together. Think about your capacity as a vase. Work out how many rocks you can fit in there. The rocks are what we at RH&Co like to call foundation content. This might be your blog, for example, or a YouTube channel, or a newsletter, or a podcast. You'll put the greatest effort into making sure whatever you choose is super high quality and packed with original thought.
Next, you want to start adding gravel. This gravel is the repurposed content that can be chipped off the rocks you created. Snippets and quotes and top tips, which can be produced without a huge amount of extra effort. One '10 top tips' blog post can easily generate 10 individual social media posts, for example. Or you might draw out an interesting quote or statistic from a video and share it as a visual.
And then you can add the sand to fill the gaps. This might be low-effort original content such as a micro post on Facebook or a quick Instagram reel. Or it might be that curated content that you can share without having to input much of your own beyond a couple of introductory lines.
Prioritise original content that will last
Creating content is a great way of getting in front of your audience, adding value, developing your brand reputation and showcasing your expertise. The more you can do, the better – but be realistic about what your capacity is.
Prioritise a manageable amount of foundational content and make sure it's exceptional quality. As a sole business owner you may only be able to do this once a fortnight – any less and you're just not to get momentum. Once a week is better, if you can, and if you have the budget or in-house resources then you might consider more.
Then repurpose as much as you can, add low-effort original content and curated content from other sources. It shouldn't be hard to get 3-5 posts out each week this way. Remember to keep it regular, and don't give up too easily. It can take six to 18 months to get a content marketing strategy delivering consistent high results. But the results will come.
If you're considering hiring a copywriter, you'll want to assess a number of different factors. The two key ones are "Can they do the job?" and "Do I get on with them?" Inevitably though, at some point you're going to need to find out one important fact: how much does it cost?
Of course, asking how much it costs to hire a copywriter is a lot like asking how much it costs to go out for a meal. It depends on whether you're going to McDonalds or a Michelin starred restaurant. On whether you're having one course or seven. On whether you're having soup, pasta and salad, or oysters, lobster and steak.
That said, we can give you some factors to consider when it comes to costing your copywriting project, and some guidelines that should help you set your expectations realistically.
Day rate vs project rate
The first variable comes in how people charge for their work. Some freelancers and even agencies use a day rate. For a freelancer, you're paying for their writing time, plus a small margin to contribute to their other activities, such as admin and marketing. In an agency, you're likely to be paying what's known as a "blended rate", which takes into account the various people who might input into your project, from account execs to strategists.
Now for the actual numbers… New freelancers might start off charging as little £120 per day, and end up charging £600 and even beyond for specialist work or once they're at a senior level. The top end of freelance rates and the bottom end of agency rates overlap – sometimes by a surprising amount. But not everyone uses a day rate.
At RH&Co, we don't think they're a particularly sensible model to work with. Yes, we factor in how long we think any given project should take. But what if one of our writers is having an off day and takes twice as long as they normally would to get a job done? We don't think our clients should have to pay extra. Nor would we expect to charge less if, in a moment of creative genius, we whizzed through a piece of work in half the time planned.
That's why we price projects on a, well, project basis. This balances time invested, value delivered, the complexity of the subject matter and a number of other factors. For us this feels like the fairest way to charge for our work.

The cost for retained copywriting work
You might want to engage a copywriter on a longer term basis. For example, you may want them to provide you with weekly blog posts, for which you'd most likely be invoiced on a monthly basis. Or you might decide you need someone available for a set number of hours or days each month, with the actual work being decided as you go.
With retainer work, you may want to – or need to – agree to a retainer rate. This is an ongoing (usually monthly) fee that tends to be paid over a set contract period. Agencies and more established freelancers will often get a service level agreement (SLA) in place so everyone knows what's expected.
It's harder to put a price on retainer work, as it very much depends on what and how much you need doing. If your retainer is based on a set number of hours or days then it will be fairly straightforward to work out. But if it's tied to deliverables, then you're back to the variations of project pricing.
One thing you can be sure of is that you will get more for your money if you commit to a retainer, as the copywriter or copywriting agency you employ can count on the work coming in. By removing uncertainty from their income projections, you can effectively earn yourself a discount.
Why it's not about price per word
Newspapers and magazines tend to pay journalists per word. This is because the copy being produced is, in relative terms, fairly standard – a news article or a feature. Although we're generalising for simplicity here, the more words involved, the more work is likely to have gone into the piece.
With copywriting, there is a much greater variety of projects. And word count is a less dominant factor when it comes to deciding on the value of the copy delivered.
Sure, a 3,000 word white paper takes more effort than an 800 word blog post. But a six word strapline can require more input than both – by a long shot. In this case, pricing is much more to do with the value that's being added through conceptual input rather than the 'writing' itself.

Understanding what you're paying for
One important factor to take into consideration when gathering pricing information from potential copywriters is what's included in the cost quoted.
Let's take blogging as an example. On the one extreme, you may have a strategy in place, customer research done, titles set and a series of briefs written and ready to go. In which case, all your copywriter needs to do is craft an engaging narrative to tie together the information in the brief in a way that authentically represents the brand.
With our clients though, we're much more involved in the process. Blogging contracts begin with a strategy and onboarding session. We advise on topic and title selection. Our briefings draw out the right information from the client's experts, and keep them from getting lost in the detail. Once a writer has produced the first draft, a separate editor quality checks and proofreads it. We can even support clients with social sharing copy to help get their blog out there.
When we send an invoice for a blogging project or retainer, we're charging for a lot more than just a few hours of writing.
Factors that will make your copywriting project more expensive
As you'll have seen in the last section, there's a lot more that goes into a copywriting project than pure writing. The more elements you add, the more you should expect to pay.
Here are a few non-writing jobs that you might want included in your project:
Brief creation: Have you got a clear brief written and ready to go or will you need support with this? The more support you need, the more a project will cost.
Concepting: Creating straplines, campaign messaging, ad copy and so on may require less writing but they need a lot more thinking time, adding to the final invoice.
Complexity: The more complex your subject matter, the more you'll need to spend, either on a specialist or on the time it takes to get a generalist to understand it.
Add ons: Do you need image research or copy uploaded into a CMS? Extra tasks will add to your bill.
Amends: Although a reasonable number of amends will be included, if you're anticipating the need for more e.g. because of a high number of people inputting their thoughts, this might cost more.
As you can see, coming up with a straightforward answer to the question "How much does hiring a copywriter cost?" is virtually impossible. The best way to get a sense of how much to budget for your project is to get out there and get a few quotes.
Just remember to be clear about what you really need. After all, it's better to pay that bit extra and get results, than spend a smaller amount and find it's been wasted because you didn't get what you were hoping for.
Read more blogs in the MARKETING & STRATEGY category…
Creating original content is one of the most powerful ways to establish your expertise as a brand and help build your reputation online. The challenge is that it takes time, effort and probably budget to do it well. Which is why it's important to repurpose that content so you can share it in lots of different ways and increase the ROI you're getting.
Repurposing content in different forms also means you'll catch a larger audience, because everyone has a different way they like to consume information, whether that's through visuals, the written word, audio and so one.
The first step is to decide what your foundational content is. Are you going to focus on blogging, on video, on podcasts? Perhaps you'll invest in white papers or webinars. You may well end up using all of them, but it's hard to do lots of things really well, especially if your budget is restricted. Better to have one as your base and build off that.
For us, blogging is the heartbeat of our content marketing strategy – an analogy that plays out visually when we look at our website traffic, which spikes each Wednesday when we publish a new post, giving a classic hospital heart monitor vibe.
Blogging is a powerful tool for both social engagement and SEO, it doesn't need lots of equipment to produce and can easily add huge amounts of value for your audience.
If you blog for your business, here's how we'd recommend squeezing the most value you can from each post, to ensure that you're reaching as many people as possible.
1) Write a valuable, search friendly blog post
Step one is to create the original piece of expert-led content. At this stage, don't think too hard about how it might be repurposed. You want to focus on writing the best blog you can write, with a headline designed to engage your audience, formatting that makes reading as easy as possible, and as much value as you can possibly include. Do consider how the title might show up in search engines, using keywords to help people find you. By doing this, your blog will start adding value from the moment it is published.
2) Share it on social media – more than once
Before we move onto repurposing per se, make sure you're sharing your post as it is on social media – ideally more than once. Your first share can be a straightforward one, introducing the topic and encouraging people to click through and read it by selling the benefits of the post. You can also use questions, stats and quotes pulled from the blog itself to vary the social sharing copy and encourage more engagements and views.

3) Summarise it in your newsletter
Your email list is made up of people who are at least moderately interested in what you have to say, so don't deny them the chance to read your post. There are several ways you can share posts via email:
Include the whole post – this reduces the need for your reader to click through, but means you won't get the website traffic.
Use the first few paragraphs followed by a 'keep reading' CTA, which will hopefully hook people enough that they want to read more.
Write a headline and short 'sell' as part of a roundup of newsletter content, encouraging people to click to read. This is the method we use in The Right Words.
4) Turn it into a press release
If your blog post has a strong news hook, original research, controversial opinion or anything else that might be of interest to a journalist, why not repurpose it as a press release? Make sure to understand the publication you're pitching to and what you're hoping to gain e.g. do you want to write a similar piece for them or do you want to go on their expert contact list? Many online publications have submission guidelines that will help you understand how best to approach them.
5) Film a video blog
We've already talked about doing one thing well rather than lots of things poorly, but there's no reason why a well written blog post shouldn't help you create a video blog. Unlike brand videos, which are worth getting a professional for, video blogs can be filmed with a decent laptop or smartphone.
Again, there are several ways to tackle this. You could go through all of the points from your blog post in one longer video. You could chop it up into different sections e.g. if you have 5 tips, you could film one video for each and make a series. Or you can use video as a teaser, for example sharing just one tip and encouraging people to click through to the blog for more.
6) Use your post as a chapter in an ebook
Chances are that once you've been blogging for a while, you'll have a collection of posts around several key topics. For example, we have a number of posts about blogging, several about websites, others about copywriting and marketing strategy, and so on. Could you gather these linked posts and make them into an ebook? These make excellent lead magnets for growing your email list.
7) Record a podcast series
Another way to repurpose a whole collection of blog posts is to record a podcast series. Once again, you can do this in different ways. The most straightforward would be to simply record audio versions of each post for people who don't have the time to read and prefer to consume their content on the go. But you might also prefer to be a little more freelow and conversational, using the key points in each post as a starting point rather than a script.
8) Create an animation
This isn't a cheap or easy option so we wouldn't recommend it for every post you write. But if there's a particular piece of pillar content that is foundational to your content strategy, animation is a powerful way of getting – and keeping – people's attention. We wrote a blog post about why whiteboard animations are so effective, and repurposed it into an animation to demonstrate the point.https://www.youtube.com/embed/D3TNkxZlfBM?wmode=opaque&enablejsapi=1
9) Put together a presentation
Next time you're asked to give a presentation at a networking group or industry event, don't stress about what you're going to talk about. Dive into your blog and you'll find plenty of inspiration. Chances are that many of your posts are a talk in themselves, containing an introduction, several main points, and a conclusion. All you have to do is create the slides.
10) Design an infographic
Depending on the information included in your post, it might lend itself nicely to an infographic format. These are great for sharing on social – especially on sites like Pinterest – and also rank well in terms of image search on Google. Remember, you don't want to include all the words from your post in the infographic – it needs to be primarily visual, so take the core concepts and use text sparingly.
11) Send it to a prospect
Some blog posts naturally fit within your sales process. For example, you might have a buyer's guide designed to help your audience make the right choice of product or service. Do put these posts on your website, but don't leave them there. Send them directly to prospects too. You might do this at the same time as sending a proposal, for example, or as a follow up that feels a little more valuable than "Have you had a chance to consider our proposal?"
While all of these repurposing techniques take a level of input in terms of time and effort, they should ultimately take the knowledge you put into your blog – the research, the concepting, some of the phrasing – and give it different forms.
By doing this, you get the most business value out of the expertise you put into your post. And you reach more people, both by using different content forms that appeal to different people, and by simply showing up more times in people's digital landscape.
As a marketing manager – especially one without a large team under you – you may well at some point need to hire an external copywriter. But how do you go about finding the right one?
Unfortunately, it's not as simple as posting a shoutout on LinkedIn and waiting for your contacts to tag their favourite copywriters. To find a good match – one that will deliver results and be worth every penny that you pay them – takes planning.
Here is a step-by-step guide for marketing managers looking to hire a copywriter.
Define the scope of your copywriting project
Have you got a detailed brief ready to send to your chosen copywriter? Without a good brief, you are setting your copywriter up to fail, no matter how good they are. To write effective copy, they need to understand things like:
Who the audience is that they're writing for
How the product or service benefits the reader
What the copy is supposed to achieve
What you want the reader to do once they've read the copy
Why they might not want to or be ready to do that
If you aren't used to writing copy briefs, it's worth finding out if your potential copywriter has the experience to help you do this. Agencies tend to use freelancers themselves and are therefore used to creating as well as following briefs.
Have an idea of your budget
You might have a set marketing budget for the year or it might be that your company is a little less rigid and you can apply for what you need on a case by case basis. Either way, you'll need to think about how you're going to fund your copywriting project.
Obviously, the final cost will vary hugely depending on what you're looking for and who you use. For example, a simple five page website selling yoga classes will cost less than a large and complex website for a financial analytics consultancy. And a freelancer who's just getting started might be charging as little as £120 while a specialist might charge five times that amount.
Sticking with pricing models, some people charge on a day rate, others on a project basis. And agencies usually have some sort of blended rate to cover the various people who will be looking after your work, from the account manager to the writer and possibly a strategist or even the creative director.
It's worth noting that some copywriters – particularly the more experienced freelancers and agencies – may have a minimum fee that they will accept.
Work out what type of copywriter you need
Not all copywriters are the same. Here are some of the different types of copywriter you might come across:
Content writers, who produce long-form copy like blog posts designed to add value and build relationship.
Advertising copywriters who are skilled at coming up with snappy campaign concepts and billboard lines.
Technical copywriters, who specialises in areas like SaaS or finance or biomedical engineering.
SEO copywriters, who can seamlessly weave keywords into your copy to improve search.
Brand copywriters, who can help you create a strapline or articulate your value proposition succinctly.
Conversion copywriters, whose specialism is creating landing pages and sales emails that will sell.
Although many copywriters will be able to work across more than one, few can do everything. If you need input into a range of copywriting projects, you might be better off looking for an agency with a bank of different writers that can be pulled in as needed.
Freelance copywriter vs copywriting agency
In fact, let's take a moment to talk about the choice between using an individual freelance copywriter and a copywriting agency. The first thing to say is that one is not better than the other! There are advantages and disadvantages to both.
A freelance writer, being a single individual, is likely to have a degree of flexibility to the way they work. They might be able to come and work in-house with your team one day a week, for example, where an agency might not offer that service.
Because they don't have the overheads of an agency, a freelancer is also likely to be relatively cost effective. Although make sure you get a range of quotes and that you compare like for like. In many cases our rates are lower than that of specialist senior writers!
The problem with freelancers is that the best ones get booked up fast. An agency, on the other hand, will usually have a stable of tried and tested writers they can call on, plus an in-house team to handle the strategy, brief creation, editing and so on.
This also helps when it comes to illness or holiday. With an agency you know there will always be someone available to look after your needs. And of course there's that team we mentioned, bringing a range of experts together to help with all aspects of your project, not just the writing.

Starting your search
Once you know what you're looking for and what you want your copywriter to achieve, it's time to start your search properly. Having said that hiring a copywriter isn't as simple as putting a shoutout on LinkedIn, that's not a bad place to start.
Be as specific as you can with your post. If you need a technical copywriter, say so. If it's an ongoing project that needs a commitment of six months, put that in your request. The more detailed you can be, the better the referrals you'll get.
A Google search is also a good option, especially if you're looking for an SEO copywriter. After all, if they're good at what they do, they should rank fairly well.
But there are other places to search too, such as creative networks. Here in Bristol, for example, we've got Bristol Creative Industries (formerly Bristol Media) where you can search the membership directory by sector.
Checking the quality
Once you've got a few options on your radar, it's time to work out whether each option is able to deliver what you need. In some cases it will be obvious – you need a website copywriter for your SaaS company, but Option A specialises in advertising copywriting for FMCG brands.
But when it comes to quality, it can be incredibly difficult to decide how good a writer actually is until you've worked with them. Hopefully they will have a website where you'll be able to see examples of their work, testimonials and even case studies. If you want specific examples, get in touch to ask for them.
If someone has referred a copywriter to you, ask them about the experience they had with them. What kind of project did the copywriter work on? Did they help with the brief creation and if so, was it helpful? Did they deliver when they said they would? How many amends stages did the work need to go through?
Once you've narrowed your choices down to a small selection, arrange a face-to-face or video meeting with the most promising individual copywriters or copywriting agencies so you can get a sense of who they are and whether you get on. If they seem like a good fit, you can move forward to the quote stage.
Don't forget the details
During your exploratory meeting, make sure to dive into the nitty gritty. Here are some additional details to establish:
What exactly is included? What are the deliverables? How many rounds of amends will you get? Will they do a final proofread of your website copy once it's designed? Can they provide social sharing copy for your blog posts?
What are their processes? How quickly can they start work on your project? What's their turnaround time? What tools do they work with (Slack, Google Docs etc)?
What are their payment terms? Will they invoice before the project or after? How long will you have to pay? Do they offer payment schedules?
What contracts need to be in place? Do they need to agree to sign an NDA? Will they want you to sign an SLA?
Making your choice
So let's recap:
You've established the scope of your project and made sure you have access to a realistic budget.
You've thought about the kind of copywriter you might need, and whether a freelancer or an agency might be right for you.
You've used your networks and Google to come up with a list of possibilities and checked out their online profiles.
And you've met a few candidates, getting a feel for whether you get on and nailing down the details.
By the time you've gathered up all this information, you should be in a good position to engage a copywriter or copywriting agency that will be a good fit for you, your business and your project. It's time to get in touch with your preferred choice and get your project started.

If you're searching for someone to help you with a copywriting project, do have a look around our site – you can find out more about our copywriting services, read case studies, explore more blog posts or our FAQs, or get in touch if you'd like to chat.
Do you have to wait for your reputation to rise or is there a way to establish your expertise right out of the gate? Our #WriterInResidence, Sam Whitlock, looks at five businesses that impress their expertise on you from first glance.
Typically, you will trust the opinion of only two types of people: people you know personally, and people who are established as experts. Whether it's your go-to mechanic or marketing guru, your trusted financial body or film critic, your software developer or your camera manufacturer, you're unlikely to want anything less than an expert.
As a business, if you play your 'expert' card right, you can find it easier to win sales, loyalty and opportunity with those who haven't got you on their radar yet.
I should mention, demonstrating you're an expert in your field isn't right for every business. You don't need to be a thought leader to sell toilet paper, for instance. Or if you're Coca Cola, you don't need to be the sommelier of fizzy drinks, you only need to be 'the thing that everyone wants'.
But if you're reading this, you're probably looking to do more than make your next hard sell. So let's look at some companies that are experts at demonstrating their expertise.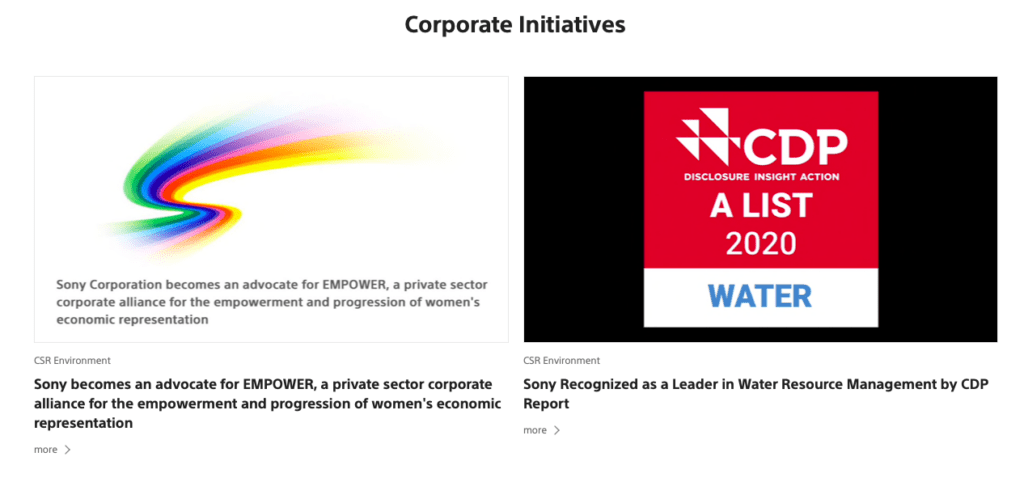 What Sony gets right from the get go is that although they are primarily an electronics company, they don't spend much time talking about microchips and wiring.
If you check out Sony's corporate site, they use stories to catch the eyes of investors, partners and talent. There are stories about using robotics to fuel creativity in Michelin cooking, using AI to analyse the movements of professional ping pong players, or using Sony's new cinema camera to capture the perfect getaway in a Hollywood blockbuster.
They're not primarily trying to establish themselves as hardware people, or even design people. Sony has cut out a piece of the market that aligns with their self-stated purpose: to fill the world with emotion through the power of creativity and technology. They've married tech expertise with the ability to inspire emotion – and it works.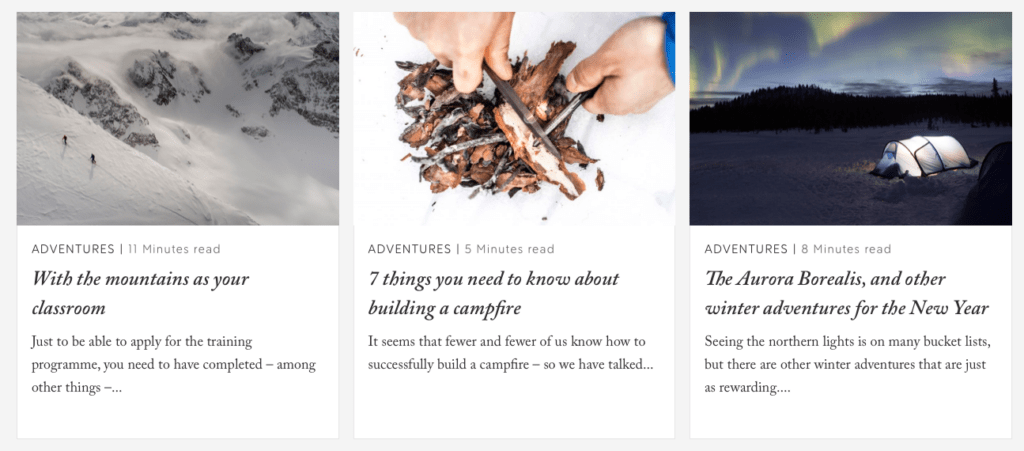 Fjallraven makes backpacks, outdoor clothing and just about everything you need for your next hike. Although they probably know a little about looking good, and a fair bit more about outdoor pursuits in general, hiking is where they've chosen to hammer home their street cred (or maybe it's mountain cred).
If you browse their 'stories from the trail' you'll find location guides, tales told by trekkers and advice on how to camp in the tundra. There are a few pointers on the kind of outdoor wear you might want to take with you – but it's not the be all and end all here.
Fjallraven wants to make clear: they don't just understand materials and backpacks. They understand what it's like to be on the trail, chasing adventure. When you read their articles, they come across as explorers who learned through experience the kind of kit hikers need. They're not trying too hard to be Bear Grylls, nor do they sound like Mountain Warehouse simply trying to sell you another jacket. Fjallraven pitch it just right.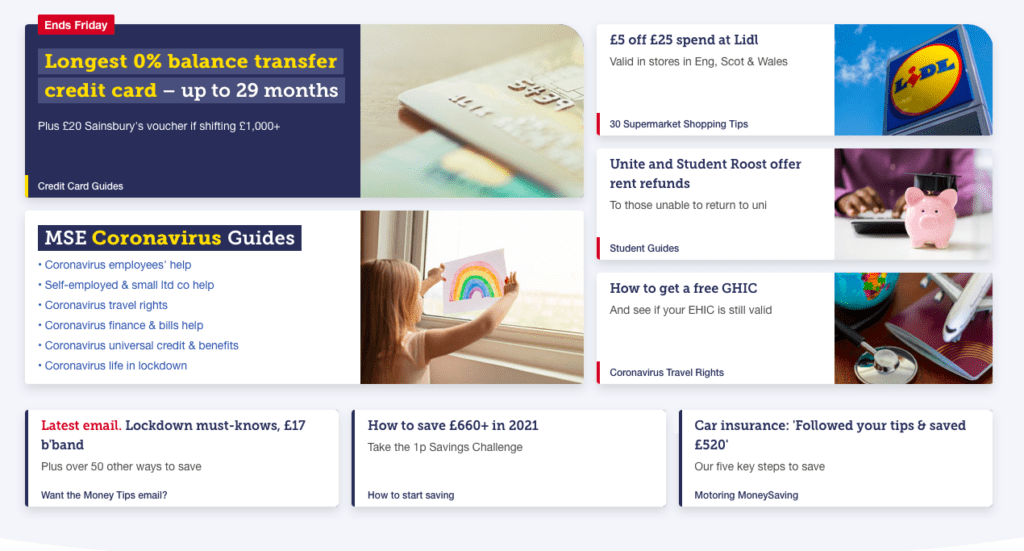 Expert is in their name but it's also the essence of what this company does. While this one-stop-knowledge-shop is in some ways the gold standard for demonstrating expertise, it requires serious commitment to imitate. A build-the-basis-of-your-business-on-it kind of commitment.
While MoneySavingExpert is chock full of the information their audience is looking for – from how-to's, to recommendations, to comprehensive guides – the scope of their content turns their site into a journal or magazine.
If businesses put their nose to the grindstone, they might be able to put out a blog post or two each week but unless they can hire their own inhouse editorial team, they're not going to become a knowledge shop in the same sense as TechRadar, Which? or MoneySavingExpert.
So what should you aim for then? Well, if you're trying to focus on a subject as broad as saving money, you're likely to be overshadowed by giants in the field. But if you can settle on a narrower niche of expertise and share consistently on that theme, you will begin to establish your own place in customers' minds.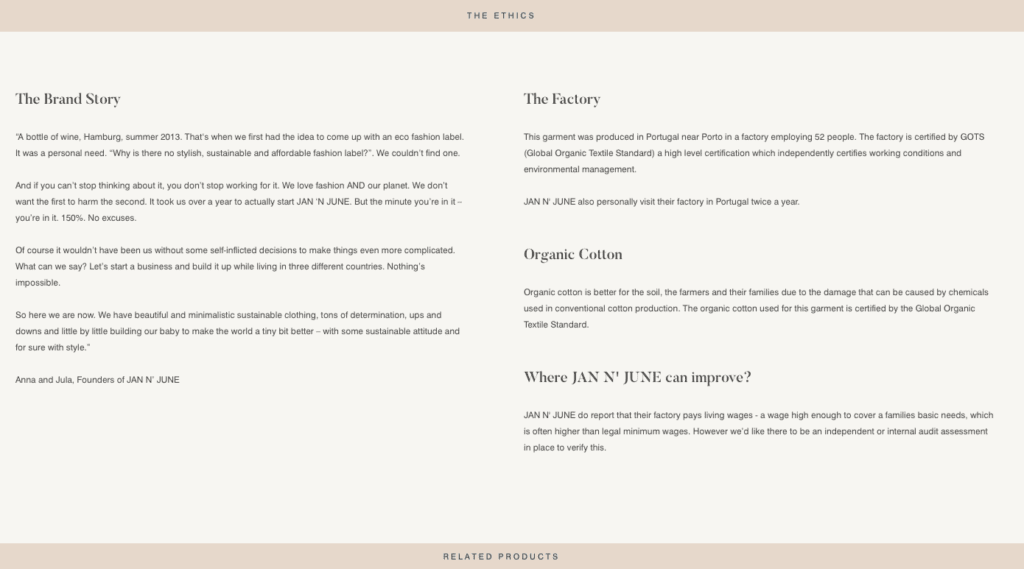 FoundHea is a Bristol-based ethical clothing shop that established itself as an expert through research and curation.
It's not just that they're really picky with their inventory. On every product page they lay out exactly what each brand is achieving from an ethical standpoint – and even go out of their way to tell you how those brands could make improvements.
This transparency and unfiltered criticism goes a long way. FoundHea doesn't come across simply as a more ethical place to shop but as an authority on ethical clothing standards.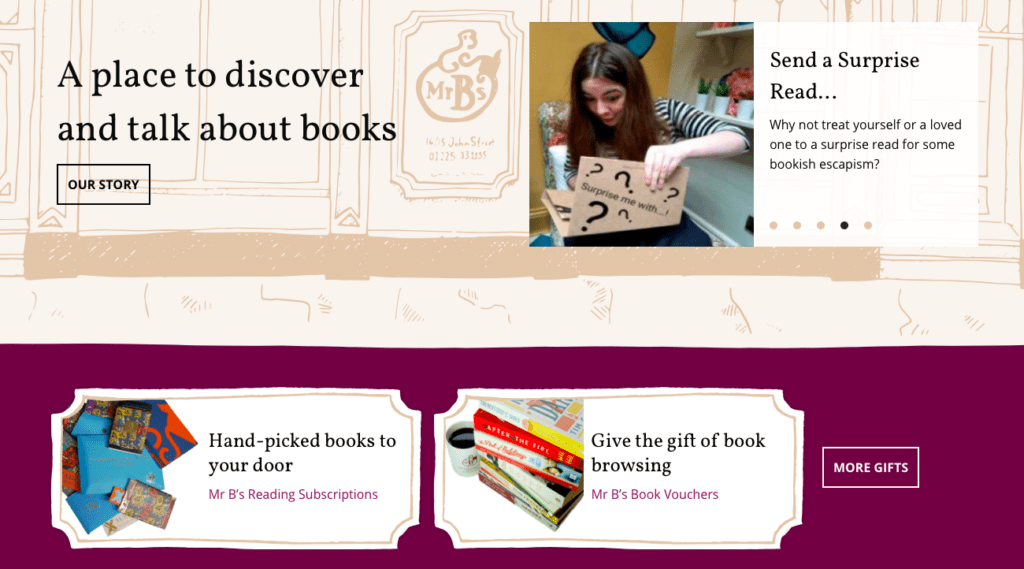 'Opinionated bookselling' is what Mr B's Emporium offers and while few people want anyone's opinion, an expert opinion is a commodity worth capitalising on. And Mr B's do it with gusto.
For a start, they bet on their opinions enough that they sell surprise recommended reads, in which you have no idea what you're ordering except for it's genre. Or you can go a step further and subscribe to be sent a book each month based upon your reading tastes, which Mr B's gets a feel for by having a short consultation with you.
Looking towards their content, you can find recommendations from every member of their team online. You can read articles and listen to podcasts that highlight books from particular genres or that tackle certain topics. Mr B's even produce their own catalogue each year to draw attention to the 101 books they most recommend.
In everything they do, they're selling their knowledge. And the upshot of it is: you might not judge a book by its cover but you can judge it by Mr B's recommendation.

Looking to establish the same kind of reputation? Check out our FREE guide on How to be seen as an expert using content.