When it comes to writing website copy, one of the things people find most difficult is the About page. Writing about yourself or your business can feel strange – in the UK we're taught from a young age that speaking too much about our skills or achievements sounds boastful, and generally prefer a self-deprecating approach.
But an About page is about so much more than listing your achievements. It's a place where you can share your brand personality and differentiate yourself from the competition. Where you can engage both customers/clients and potential employees alike, setting out your values and sharing a glimpse behind the scenes of your journey so far.
Here are a few key things to think about when writing your About page.
Start with your audience
Yes, this might sound counterintuitive. After all, if you can't talk about your brand on your About page, where can you? But you still need to understand which bits of the brand your audience will be most interested in and make sure to relate it back to their needs.
As an example, on our About page we start by saying this:
"You need powerful words to achieve significant business results. We know how to find them, how to put them together, how to make them sing. Plus we're nice people, so working with us is fun too."
There are lots of things we could say about ourselves but we've started by selecting the two things we know people care most about when choosing a creative agency: can you do the job and will I like working with you?
People buy people
Whether you're a sole professional, a young startup or a blossoming SME, your About page is a chance to give your brand a face – or faces. This is where you'll traditionally find the 'meet the team' section, where people can find out more about the individuals they might come across when they interact with your business.
There are different ways to present this section. You can include the whole team, the senior leadership team or just the client facing people. You can list names and titles only, include a short bio or use this space to give visitors a little glimpse behind the curtain with insights into things like hobbies or favourite karaoke songs – just make sure these are relevant and appropriate to your brand or they can feel cheesy.
We love the way that Bristol business McCann Synergy highlight a SynerGuy or SynerGal from their team on their About page each month. It's a great example of the way they celebrate their employees – something that, as an employer brand agency, neatly shows that they practice what they preach.
An important note about authenticity: if you're a sole business owner without a team, think carefully before using 'we' instead of 'I'. You might think sounding bigger than you are is impressive but it won't be long before you're found out and it's really hard to rebuild trust once it's been broken.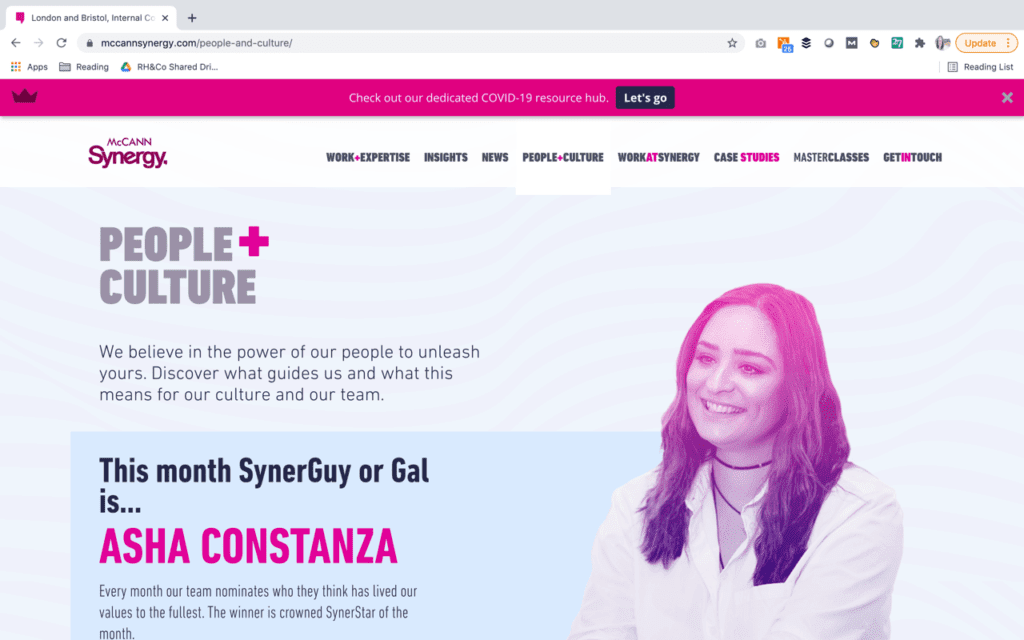 Share your values
Another thing that McCann Synergy include on their About page is a section on their values – in this case a video. Consumers are increasingly values-driven which means that they are choosing which companies they spend their money with based, among other things, on whether a brand is environmentally friendly or active within its local community.
Including your values on your About page can help you to define who and what you are as a brand, and set yourself apart from the crowd. SR2 Recruitment is a good example: Founder Chris Sheard was inspired to start the company after reading Dale Partridge's book People Over Profits and his values are clear throughout the whole website including the About page.
But be warned – this is a very cynical age we live in and if you're spouting values for values' sake then you'll soon find your audience dismissing you as inauthentic. Before you start writing about how you support local charities or embrace flexible working policies to create an inclusive workplace, make sure you can back up those claims if challenged.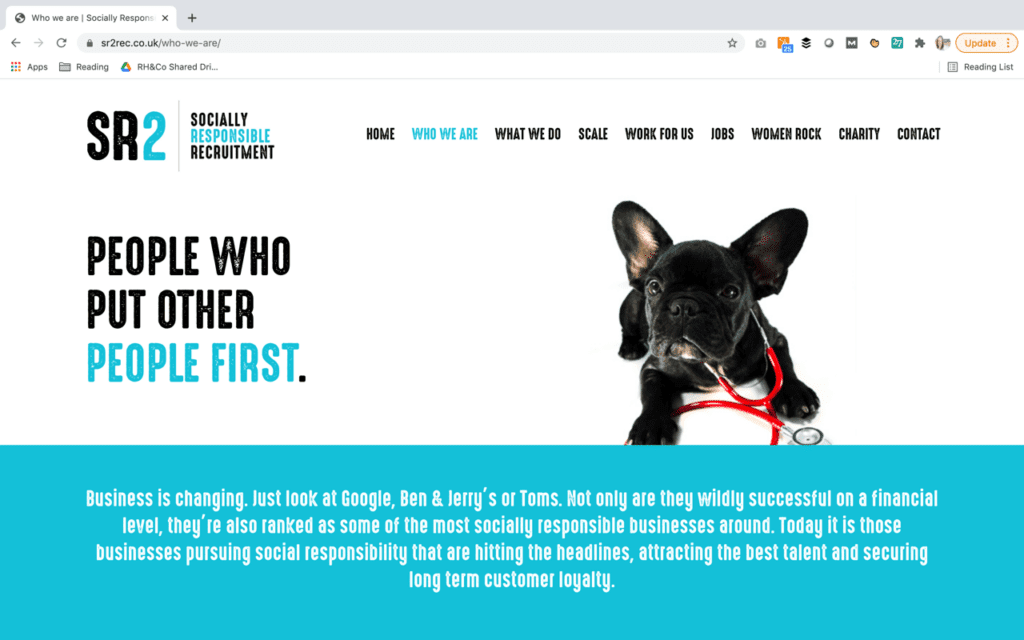 Tell a good story
One thing that has been true of human beings since the beginning of time is our love of a good story. So think about how you can tell the story of your business. It could centre on how you as a business owner came to set up your company – as in our company video – or it could be about how your company has evolved over the years.
This can be a good space in which to share or back up your values in a "show, don't tell" sort of a way. For example, rather than saying you're passionate about something (which relies on people taking your word for it) tell the story that demonstrates that passion – like the inspiring tale of This Mum Runs does so very well.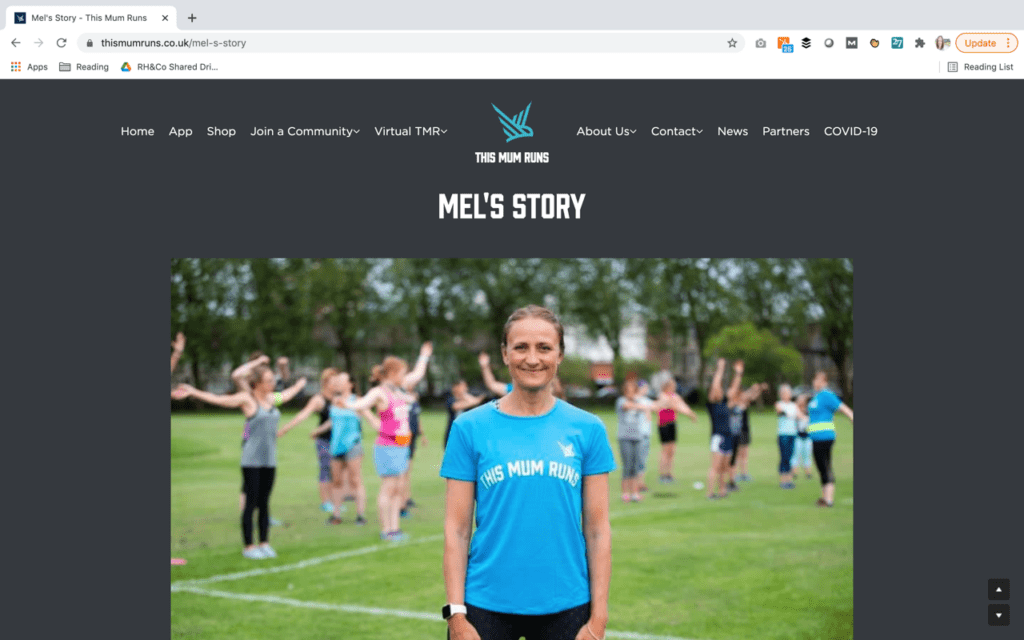 Remember, you don't need to write a novel here. Historic wine merchants Averys of Bristol uses a simple timeline format to quickly walk us through more than 200 years of the company's history. As we always say, you don't need many words, just the right ones!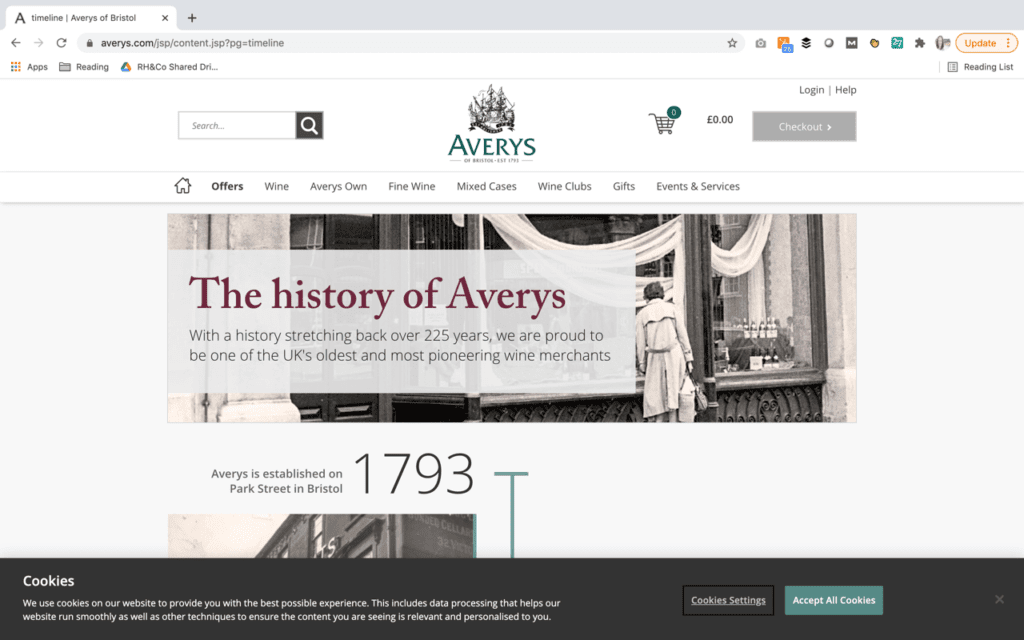 Season with facts
Of course, values and stories can get a bit fluffy if you're not careful. That's why it's important to include the right facts to give your business credibility and prove that you are who you say you are.
These facts might include qualifications, accreditations and memberships of awarding bodies, awards won, years active or number of units sold. You can also include some of the bigger clients you've worked with, prestigious projects you've been involved in, clippings from when you've been featured in the media and more. In short, anything that is indisputable in demonstrating an aspect of your brand so that your visitors don't have to rely solely on what you're saying about yourself.
Done well, an About page can be as powerful as for your website visitor as meeting you or your best salesperson.
If you want to check if your website is actually doing what it's supposed to do, download our free website audit guide, packed with questions and quick fixes designed to help you analyse and improve your website copy. Or if you'd rather someone else did the legwork then get in touch with the team today to ask about our website copywriting services.
Back to Feed