Blogging can be an incredibly powerful tool for any business. From adding value for your clients to boosting your website's SEO, showcasing your expertise and more, there are many reasons why it pays to invest in this aspect of your content marketing. But how do you come up with ideas for your business blog in the first place?
Because the truth is that there are millions of blog posts published every day. Which means that if you want yours to grab the attention of your intended audience, you need to make sure each title is a winner.
Over the years we've written hundreds of blog posts for a huge range of clients, from software developers to mental health clinicians, graphic designers to leadership coaches. All very different subjects but the fundamentals of helping their blog succeed was the same.
In each case, the value we were able to add beyond crafting well-written, engaging content was actually helping them to set a strategy and come up with sharp, well-angled titles to get people reading in the first place.
You and them – a Venn diagram
Most business owners, on sitting down to think about what they can blog about next, will look inwards. What do I want to write about? What's happening in my business? What do I want my audience to know about, believe, understand?
There's nothing at all wrong with this. But once all that's down on paper, you also need to think about what your audience wants to read about. What are they struggling with? What do they aspire to? What's confusing them? What will make them laugh? Or nod along in complete understanding?
Now look at those two lists and imagine a Venn diagram – you know the one with the two circles that overlap? Whatever is in that overlapping bit is your sweet spot. This is where you will engage your audience.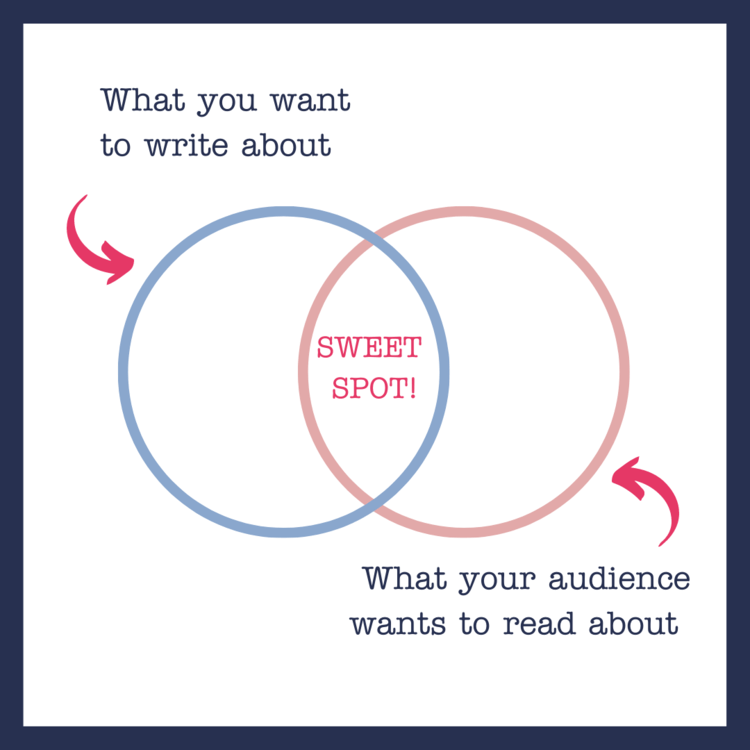 Ideas are everywhere when you start looking
The truth is, you don't need to come up with entirely original ideas. Ideas are all around you:
The media
Your competitors' blogs
Industry events
The questions your clients ask
General conversation
And that's just a few examples. Once you start looking, you'll find inspiration everywhere. Then it's just about going back to that list you made and working out which ones fit within that Venn diagram. Which ones will your audience be interested in while also serving your needs as a business.
Use tools to help you generate blog ideas
If you Google "where can I get ideas for my business blog?" you'll find thousands of posts offering much the same advice as we've summarised above. But don't you find that sometimes you can know the theory and still find it tricky to put it into practice?
That's where tools can be really effective. Sadly, we haven't found many really effective ones. There are quite a few 'Blog title generators' online, where you stick in a few key words and an algorithm spits out a list of titles you might want to consider for your blog.
These can be fun to play with but in isolation they really aren't going to help you get your blog generating real results for your business. That's why we decided we should create our own tools. And once we started, we couldn't stop!
Here's what we came up with:
A tool to help you mind map the subjects you could be blogging about
A tool to help you forage ideas from lots of different places
A tool to help you use proven blog categories to generate more ideas
A tool to help you craft your ideas into relevant and engaging titles
A tool to help you tighten those titles so your audience won't be able to resist
The Business Owner's Blog Title Toolkit
Now we've packaged these 5 tools up into the Business Owner's Blog Title Toolkit, which is packed with example titles that will help you generate ideas for your business blog today, tomorrow and long into the future.
Why have we done this? Because we believe every business should have access to the tools they need to create a blog that generates results, even if they don't have the budget to hire a professional copywriter.
If you're struggling to blog consistently and you know that having a stream of engaging ideas and eye-catching titles would help, we know you'll benefit from the Business Owner's Blog Title Toolkit, which is available in our new shop for £27+VAT.
Blogging is a powerful tool in itself. But only if it stands out from the crowd. And it all starts with getting the right ideas and crafting effective titles – titles that will not only communicate what you want to share with the world, but connect directly with your audience so that they can't help but click on them.
Back to Feed