If we had to choose one element of any piece of marketing material that we thought was most important, it would be the call to action. Without a call to action – or CTA – your reader can only guess at what they should do next.
This is especially important when it comes to websites. Back in the early days of the internet "click here" was the default option. But today it's a big shouty "I haven't updated my website copy in years" sign and, in our opinion, should be avoided at all costs.
So what are the alternatives? Well, as with all marketing, it all depends on your brand. Are you serious or playful? And what are you trying to get your audience to do? Read on to find out more about how CTAs work and examples of brands who are doing it right.
The psychology behind a call to action
There's a lot of psychology that goes into a good call to action. For example, imagine you're on a fashion retail website. On the homepage you want to get people to browse. So you might have a section on dresses, another on shoes. These could include a call to action button that reads "shop the range" or "browse dresses". Nice and relaxed.
Having clicked through and seen an item you like you might then be encouraged to "buy now". However some stores prefer "add to bag", which takes the focus off of the money spending element and makes it feel like less of a commitment – like taking the item into the changing room rather than to the till.
That said, there is an advantage to using "shop now" – the word "now" being a way to convey urgency and encourage prompt action. The same goes for "contact us today" and so on.
Calls to action that we really like
Sometimes it's easier to work out what kind of call to action will suit your business best by looking at what everyone else is doing. Here are some examples of call to actions that we think are particularly effective.
UWE – "Start your 360 experience"
Having set up the concept of UWE offering a 360 experience, this call to action personalises it by asking visitors to begin theirs. It's the equivalent of an estate agent stepping back and letting a prospective buyer step through the door first so that they can envisage themselves living there. This isn't a generic 360 experience, it's your 360 experience!
Fiji tourist board – "Adventure in Fiji"
Who wouldn't want to adventure in Fiji, right? Clicking on that button doesn't commit you to buying anything but it does open the door to exciting possibilities. For the travel fans who will be visiting this site it's an incredibly effective way to encourage engagement.
Becky Barnes – "Sounds great! Yes please! Tell me more!"
When we created the copy for stylist Becky Barnes' website, we wanted the calls to action to be really conversational to reflect the personalised way that Becky works with her clients. Putting the CTAs in the voice of the visitor helps draw out those feelings and encourages them to click through.
Virgin – "Tell me more"
We love the phrase "tell me more" because it suggests "I'm not quite ready to buy but I'm interested". Which is exactly where Virgin's website visitors are likely to be at the point that they visit this page. By acknowledging that they're not ready to "buy now", it takes the pressure off and makes a click-through more likely.
Lush – "Explore"
Lush is a company that does brand voice really, really well. In fact, we use examples from their marketing in our brand voice workshops. Explore is the perfect word for their homepage because that's exactly what they want you to do. It's not about buying products (yet), it's about buying into the brand, their values and their excitement about the way they do business.
Spotify – "Start free trial"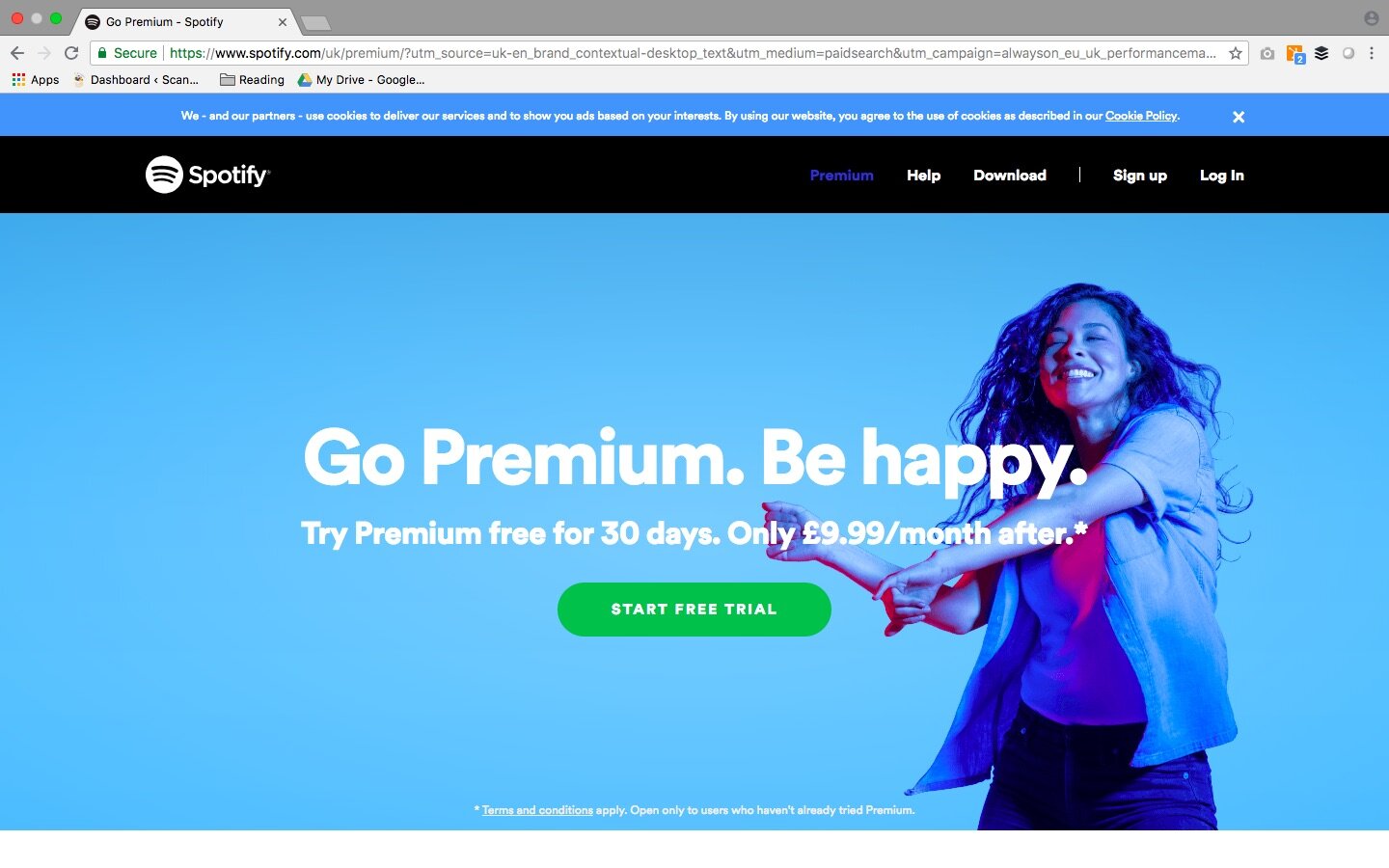 This is an example of where a very simple call to action can be incredibly effective. It's not emotive, it's not quirky or unusual, it just highlights the fact that the trial is free. Why wouldn't you click? The word 'start' is also an energetic verb (doing word) that encourages action.
Visuable – "Get started"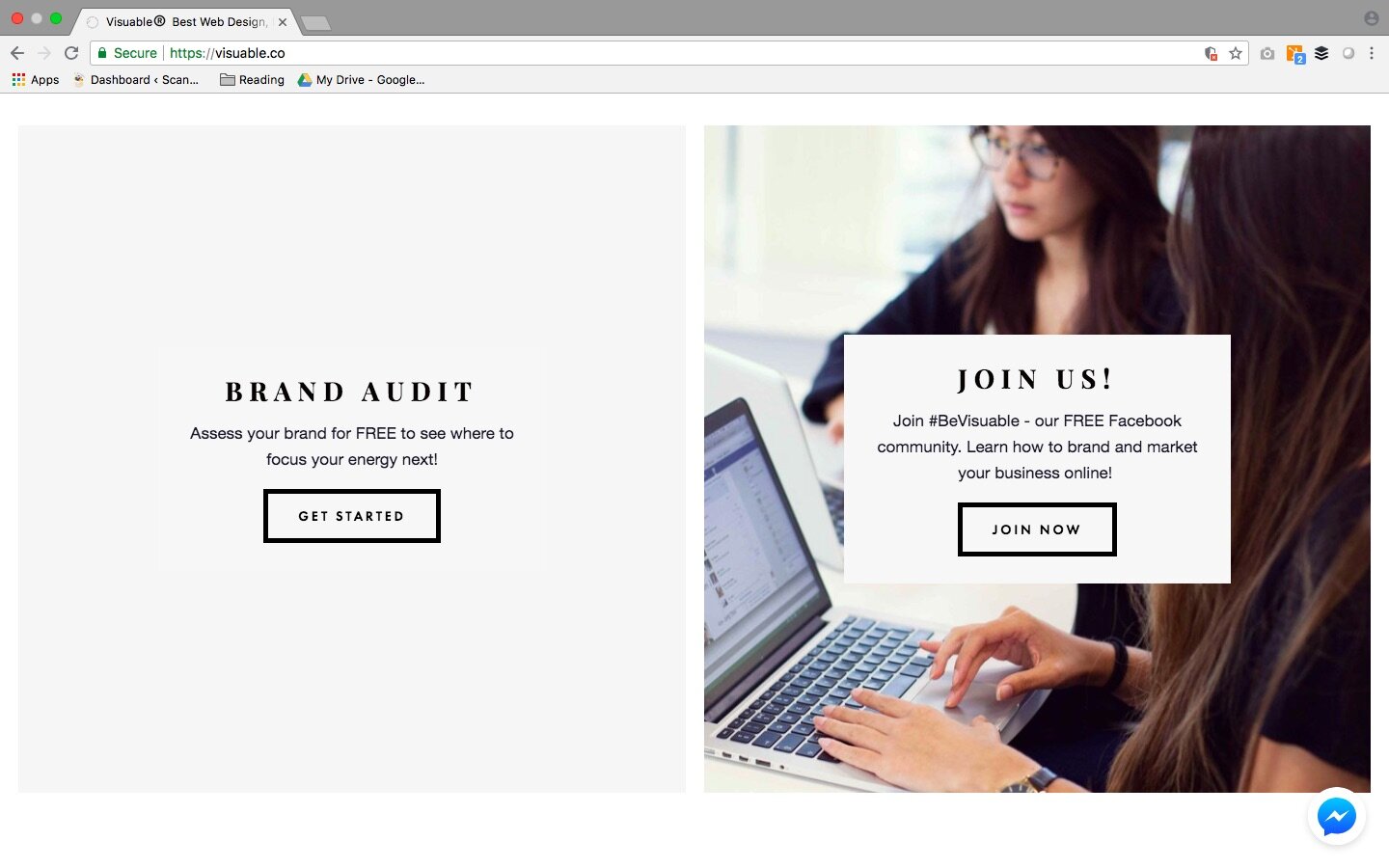 Doesn't this CTA make you think of someone standing up, brushing off their hands and saying, "Right, let's get started"? There's a sense of getting stuck into something worthwhile, and for those who are interested in Visuable's Brand Audit it's the perfect way to get them moving.
Back to Feed